Welcome to Hypatia Studio's Celtic Knot Creator!
Here you can design your own Celtic knot or other woven design and then download a model of it suitable for 3D printing at the printing service of your choice (e.g. Shapeways) or at home on your own 3D printer. Create a unique pendant, earrings, home decoration, or a woven ring or bracelet. Then upload your design to a printing service to have it made in gold, steel, plastic, or other material. You can find some example designs to inspire at the 'examples' link at the top of the page or by clicking here.
Make your own creation in five steps:
Step 1: Choose the type of design (flat pendant, earring, bracelet, or ring) in the menu above the knot layout area. (Don't worry, you can change it later!)
Step 2: Make the layout of your design in the layout area using the tiles in the palette to the right.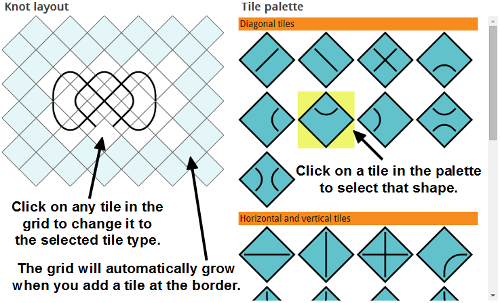 Step 3: Adjust the size and style of your design using the controls underneath the layout.
Step 4: See a preview of your design by pressing the 'Check design and preview' button.
Step 5: Repeat steps 1-4 as needed until you are satisfied with your creation. Then, press the 'Download' button to get a model of it for 3D printing.
For detailed information about how to use Celtic Knot Creator and design tips, click here.